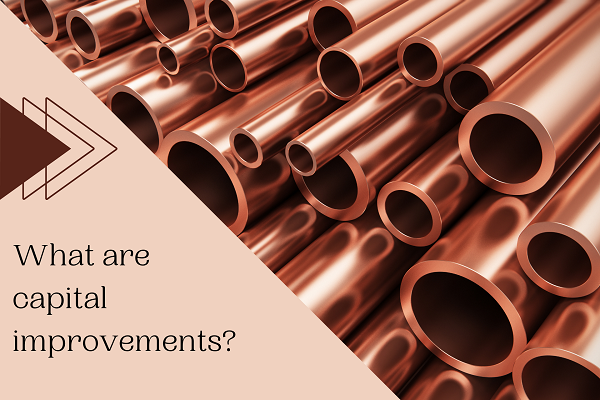 Whether you're planning to flip a property or simply want to improve the value of your home, it's a good idea to prioritize projects that count as capital improvements. A capital improvement to your home is an expense you can claim on your taxes after you sell the property.
But what exactly does capital improvement mean? Here are some common questions and answers:
What's the difference between capital improvements & repairs?
Not all home improvement projects count as capital improvements. An investment in the construction of new buildings is considered an investment of significant value and an improvement of property. This usually involves building or remodeling the structure.
In contrast, repairs are either preventative or routine maintenance. This would include work to fix or replace an existing asset.
Capital improvement examples
Here are some of the most common examples of capital improvement projects:
Building an addition to your home.
Adding heating & air conditioning systems.
Adding a permanent fixture to increase accessibility & safety, such as ramps or handrails.
Plumbing additions & improvements like septic tanks or soft-water filters.
How a capital improvement works
Capital improvements generally increase the price of an asset, but also extend its useful life. Under IRS standards, capital improvements must last at least one year after completion. Although the scope of capital improvements varies between individuals, and large property owners make capital improvements.
How do people finance capital home improvements?
A common way to finance a capital improvement project is to opt for cash out refinancing. Cash out refinance allows you to replace your existing mortgage loan with a larger one and take out the difference as cash.
Home equity loans and home equity lines of credit (HELOC) are also used for capital improvements. A home equity loan is ideal for a one-time major project, while a HELOC can be beneficial if you're planning multiple ongoing projects of varying expense.
Can maintenance jobs turn into capital improvements?
While there is a difference between regular maintenance and capital improvements, one can turn into the other. For example, you might have a leak and hire a plumbing service to investigate and resolve the issue. In evaluating the problem, you find extensive damage requiring replacement of large sections of plumbing.
While repairs and maintenance were originally meant to restore your plumbing's existing function, replacing damaged pipes will extend the useful life of the system and home.
To find out if your planned projects are considered capital improvements, consult a home inspector or tax professional. The more you know about the potential benefits of your hard work and money, the better decisions you can make for your home.